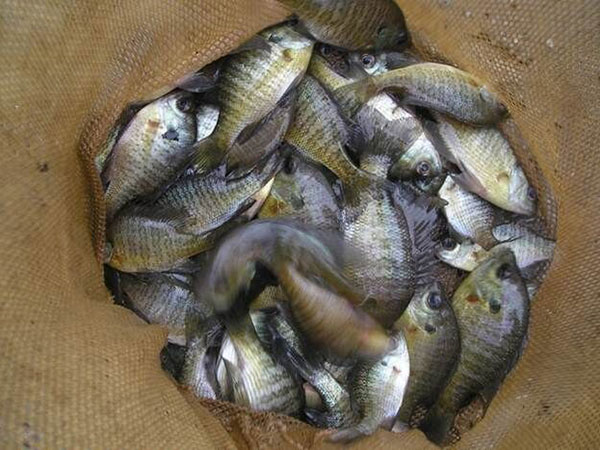 (Lepomis macrochirus)
Known as bream to many, they are the backbone of forage production for largemouth bass ponds. Bluegill are very prolific, reproducing multiple times a season (3-5 times/year). This provides largemouth bass with a large quantity of food while still allowing themselves to sustain a healthy thriving population.

They spawn in large colonies of nests in 3 to 6 feet in depth over sandy and gravel substrates close to the shore. Spawning occurs when water temperatures reach 67-70°F. Bluegill readily eat floating fish food and have great growth rates from supplemental feeding. They also provide excellent fishing opportunities for kids and novice fishermen. There are two subspecies, native (also called Mississippi) and coppernose. The coppernose are better suited for warm climates and are very aggressive when supplemental feeding.
Recommended stocking rate is 200 per acre.
Quantity discounts may apply.
Free delivery on most orders.
Call for prices.